Rwanda primates tracking with Jungle safaris Uganda
NYUNGWE FOREST NATIONAL PARK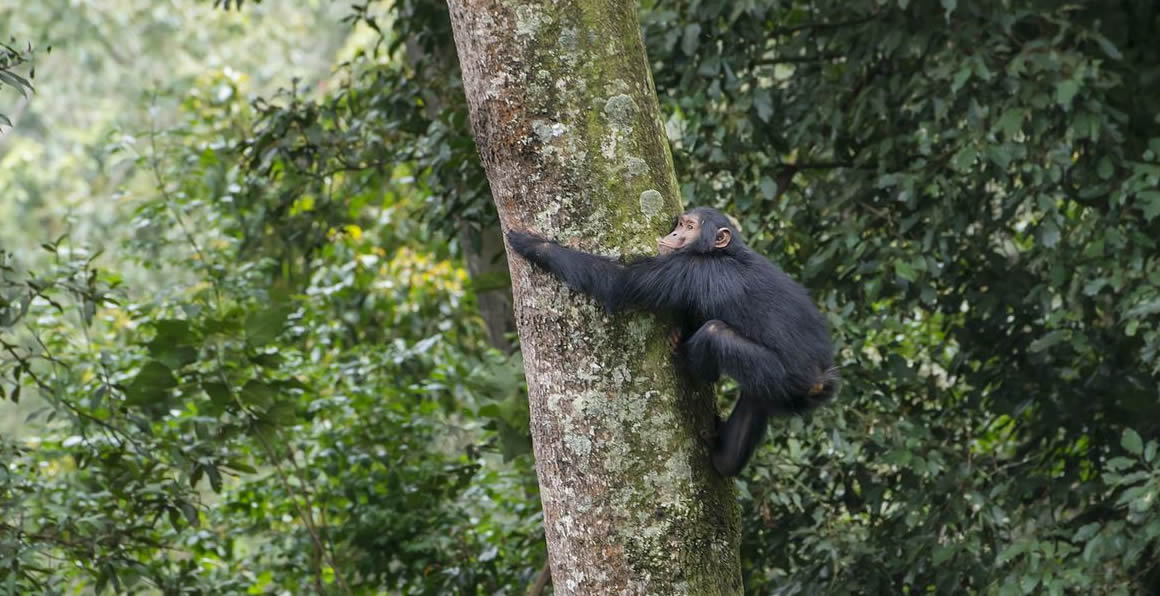 Extending for 1,000 square kilometres across the majestic hills of southeast Rwanda, Nyungwe National Park is the largest block of montane forest in East or Central Africa, and one of the most ancient, dating back to before the last Ice Age. A uniquely rich centre of floral diversity, the forest has more than 200 different types of tree, and a myriad of flowering plants including the other-worldly giant lobelia and a host of colourful orchids.
Nyungwe forest is located in southwestern part of Rwanda, and it was gazetted as a National Park in 2004. Nyungwe Forest National Park covers a total area of 970 KM The parks is located 225 Km from Kigali, 90 Km from Butare and 54 Km from Cyangugu. Nyungwe forest has an altitude range of between 1600 M-2950 M above sea level with temperatures varying between 0C and 30 C; average day temperatures 15C. The Rainfall received ranges between 1800-2500 mm per year. Rainy season is September to May. Dry season June to August with some dry weeks in December and January.
tourist attractions of nyungwe forest national park
Features/Attractions of Nyungwe Forest National Park:
The main features and attractions in Nyungwe forest include the following.
Largest montane rain forest remaining in Africa – (Forest walks and primates trekking).
Mt. Bigugu (2925M) – (Mountain Hiking)
Kamiranzovu marsh (13 Km)
In the vicinity Cyamudongo community forest with resident population of Chimpanzees.
260 species of trees and shrubs (Nature walks)
Over 100 species of orchids and giant lobelias.
More than 275 species of birds recorded Including the Ruwenzori turaco, Ross's turaco, Grey cheeked hornbill, Red-throated alethe, Red-breasted sparrow hawk, White-headed wood-hoopoe, Kungwe apalis, Ruwenzori batis, Blue-headed and Regal sunbirds.
13 recorded species of primates (25% of Africa's total) including Chimpanzee, Ruwenzori colobus, L'Hoest's monkey, Silver monkey, Golden monkey, Owl-faced monkey (C.hamlyni),Red-tailed monkey, Den't mona monkey, Vervet monkey, Olive baboon, Grey-cheeked mangabey, and three species of bushbaby.
Leopard, golden cat, serval cat, side stripped jackal, Genet, African civet, slender and marsh mongoose represents the carnivores.
Other mammals include three species of duikers, two species of flying squirrels, tree hyrax, and Congo clawless otter.
120 species of butterflies.
Reptiles including three species of horned chameleons.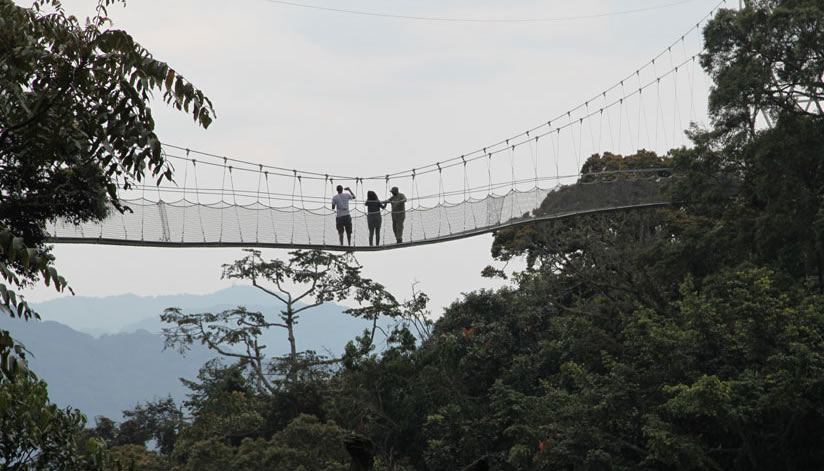 tour Activities in nyungwe forest national park
Tour Activities in Nyungwe Forest National Park
Bird walks.
Primate trekking.
Excursions to Kamiranzovu Marsh.
Excursions to Lake Kivu and Gisakura tea factory.
Scaling Mt Bigugu(2925M).
Photography.
Accommodation: Nyungwe forest lodge; newly opened located in the tea estate overlooking Nyungwe forest with modern facilities and services like modern day traveller- wifi internet, TV, and health club. Other places of stay are Uwinka Rest House, Gisakura Guest House, Ortpn campsites.
SPECIAL OFFERS – NYUNGWE FOREST – JUNGLE SAFARIS UGANDA-RWANDA
On your way to or from Nyungwe if you have time, you can stop briefly at the following places:
Nyabisindu to visit the Nyanza King's Palace, the capital of ancient Rwanda Kingdom.
Butare visit the Museum, University, cathedral, arboretum and the curio workshops.
Genocide memorial of Murambi.
The Cathedral of Kabgayi and the adjacent small enthnographic museum. Kamageri's Rock (Uratare rwa Kamageri)- on the roadside after Ruhango towards Gikongoro.
3 Days safari to Nyungwe Forest National Park and Rwanda Safaris
Other interesting safaris in Rwanda