Kibale Forest National Park features among Uganda's ten most spectacular protected areas that you should consider a must to visit while on safari in Uganda. The park features extensive tropical rainforest, grassland and swamps. It covers an area of about 795 square kilometers and stands at altitude of about 1290 meters in the north and 1100 meters along the Albertine rift valley in the south.
For primate lovers, consider Kibale Forest National Park a must to include in your bucket list. The park boasts of its over 13 distinct primate species with over 1500 chimpanzees out of all the 5000 individuals that are Uganda is known for. Others include the rare L'Hoests, black and white colobus monkeys, red tailed monkeys, red colobus monkeys, grey cheeked mangabeys, pottos, blue monkeys, bush babies, baboons and others.
This protected area also refuges about 350 tree species most of which stretch up to 55 meters and they are more than 200 years old. It also offers refuge to about 70 distinct mammal species including forest elephants, buffaloes, leopards, bush pigs, duikers and over 370 bird species as well as several butterflies, reptiles and amphibians.
The notable bird species at this park include the rare green breasted pitta, red faced woodland warbler, black capped apalis, purple breasted sun-bird, yellow spotted nectar, brown chested alethe, yellow rumped tinker bird, crowned eagle, black eared ground thrush, little greenbul, dusky crimson wing, blue headed sunbird, collared apalis and many more.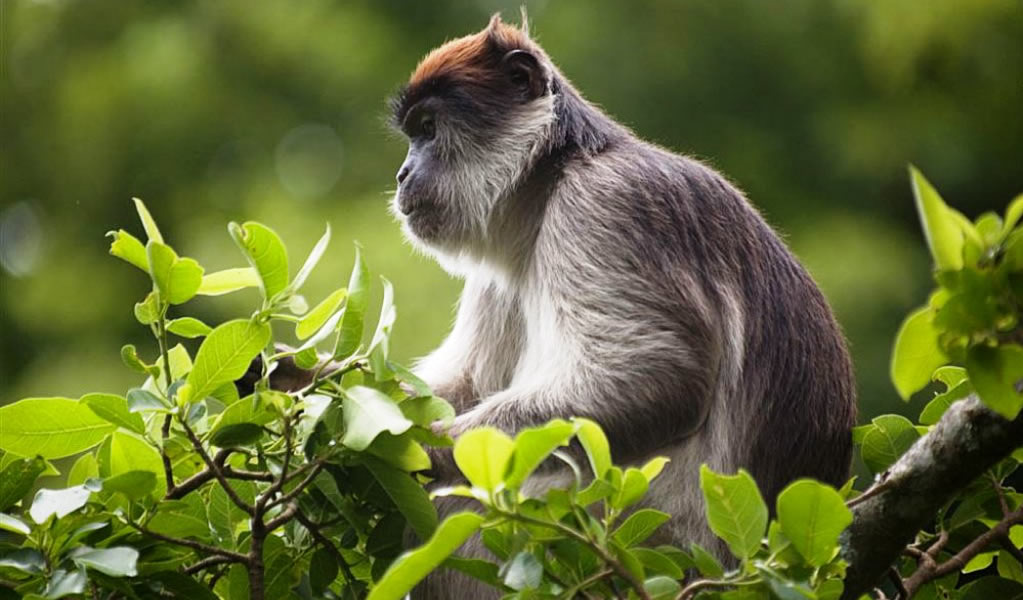 Kibale National Park connects to Queen Elizabeth National Park to the south where it makes up about 180 kilometer long corridor for wildlife species between Ishasha-the remotest southern area in Queen Elizabeth National Park and the Sebitoli in the north of Kibale Forest National Park. The park is located at the spectacular Ndali-Kasenda Crater Area.
How to reach Kibale National Park?
Situated in western part of Uganda, Kibale Forest National Park is reachable about 26 kilometers southeast of Fort Portal town and Kanyanchu River Camp (also known as visitor center) features as the major area where most of the tourist activities are conducted at the park. It can be reached from the north via Mubende and Fort Portal and or from south through Mbarara and Kamwenge. The northern route is regarded as the shortest and best as it is tarmacked and covers about 315 kilometers to Fort Portal and then you connect to Kanyanchu / Kamwenge road approximately 36 kilometers.
What to do in Kibale Forest National Park?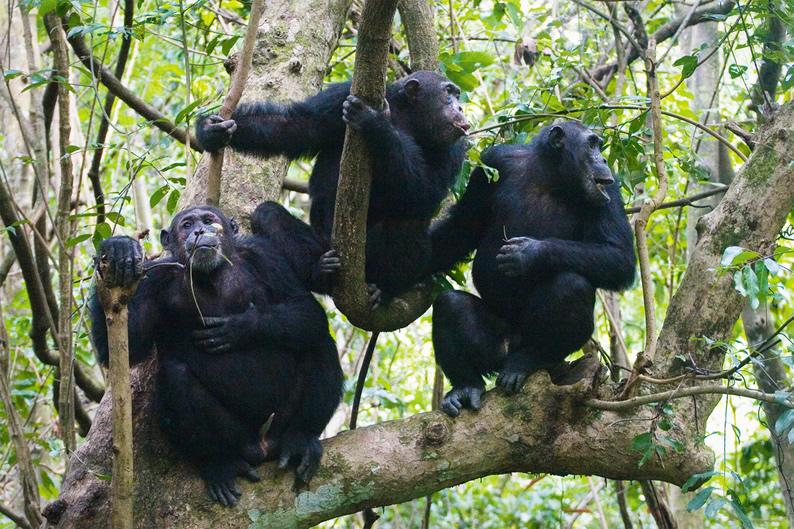 Chimpanzee tracking features the most sought after primate adventures by most travelers on safari to Kibale Forest National Park. This adventure is conducted in the morning (8:00am) and in the afternoon (2:00pm) at Kanyanchu visitor center. Chimpanzees at this park were habituated for visitors to track around 1991 and they can easily be tracked in the jungles of Kibale National Park.
Chimpanzee permits for Kibale National Park cost $150 per visitor including entrance fees and to see a group of these spectacular primates, you will have to hike through the forest. This adventure lasts for about 2 to 4 hours depending on where they are found, nature of the habitat and walking speed of visitors and up on getting them, you will spend only an hour to strike your imaginations with them take as many photos as possible.
Chimpanzee Habituation Experience (CHEX)
Besides the usual treks, you can also engage in chimpanzee habituation experience also best known as CHEX. This chimpanzee adventure takes visitors the whole day of chimpanzee exploration while acquainting them to human presence. It is conducted by park trackers/researchers and visitors starting early in the morning till sunset. This adventure is usually done all year round and currently charged US$200 per person. The activity starts early at 6am before chimps come out of their nests until evening when they return to their nests.
Nature walks/forest hikes
For visitors who wish to explore the park in depth, consider forest walks a must for you to include in your bucket list. The forest walk at the park takes you through a 12 kilometer walk and it is restricted only to dry months especially around mid November to February and June to September. This rewards visitors with remarkable views of the park's grassland, riverine forest, tropical rainforest and swamps.
Visitors also get a chance to spot out most of the park's avian species and primates as well as butterflies. The forest walks usually begin at 8:00am and 2:00pm local time. For interested visitors you are advised to come with some energy giving snacks, enough drinking water and others.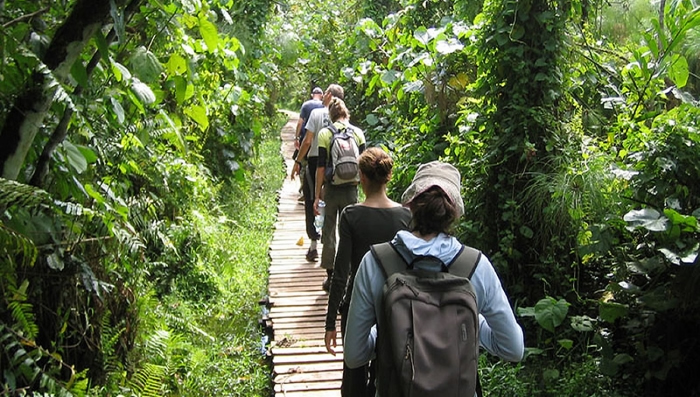 There are also guided night walks through Kibale forest to catch up with night dwellers.
Children activities
For children under 15 years who are not allowed to go for chimpanzee trekking, there are some exciting activities for them to engage as the parents are on strenuous chimpanzee trekking. Children can pay a visit to the forest and explore more about its remarkable ecosystem together with a park guide.
There are also games like batik making, pond dipping, photography and cyanotype.
Other activities for you to engage while on safari in Kibale National Park include cultural heritage and nature trail walk-an absolute walk that lasts for 2 to 6 days through the forest. It starts and ends at Kanyanchu or at Sebitoli visitor center. The walk takes visitors via the forest during day time and in the evening, to community run campsites near the villages of Kikoni, Nyaibanda and Nyakalongo. This also provides you opportunity to meet with the Batooro and Bakiga tribes.
After or before your chimpanzee adventures at Kanyanchu River Camp, never miss to pay a visit to Bigodi Wetland Sanctuary just next to the park. This sanctuary lies within Magombe Swamp and it is credited for its amazing primates (red tailed monkeys, black and white colobus monkeys, red colobus monkeys as well as bushbucks, mongoose, sitatunga and over 138 bird species, all of which can be spotted while on guided walks.
Where to stay in Kibale Forest National Park?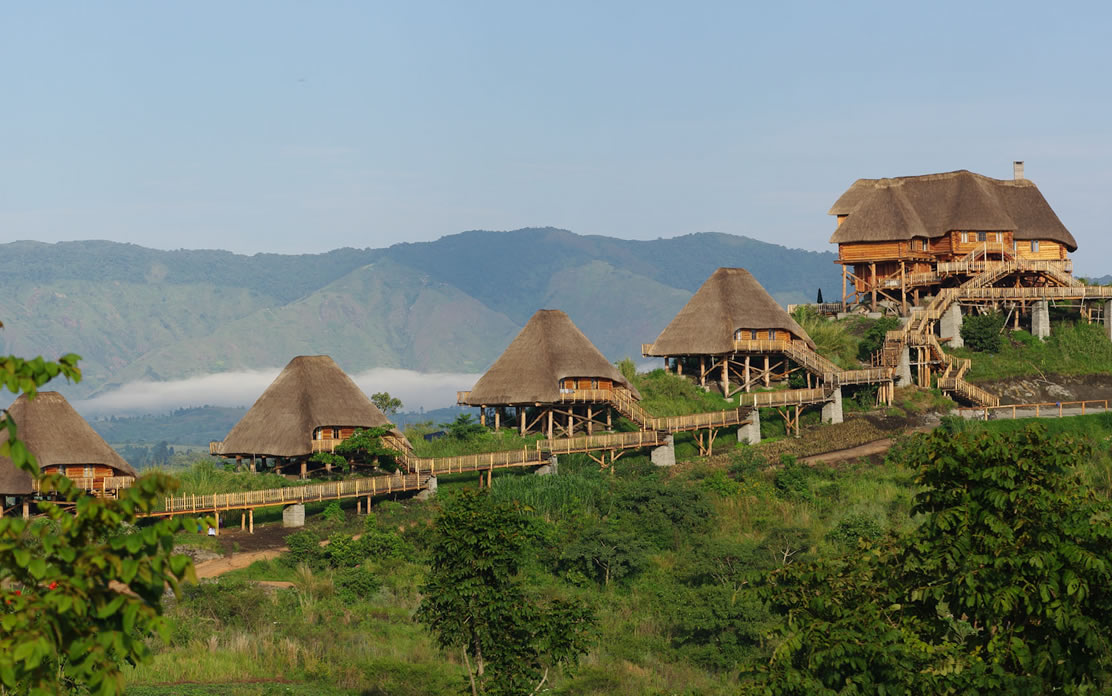 The leading accommodation facilities for you to spend a night while on safari in Kibale Forest National Park include Primate Lodge just next to Kanyanchu visitor center, Ndali Lodge, Kibale Safari Lodge, Kyaninga Lodge, Chimpanzee Guesthouse and others. If you are looking for the best primate destination then consider Kibale Forest National Park a must to visit while you are on your safari in Uganda.