Location, size and Accessibility
Akagera National Park was gazetted in 1934 and is one of most popular wildlife safari park in Rwanda. It covers an area of approximately 1085 KM It is just 2 hours drive East of Kigali Rwanda.
Akagera National Park is dominated scenically by the labyrinth of swamps and lakes that follow the meandering course of the Akagera River, the most remote source of the Nile. This is archetypal African savannah landscape of tangled acacia woodland interspersed with open grassland.
Akagera National Park Habitats and features/attractions: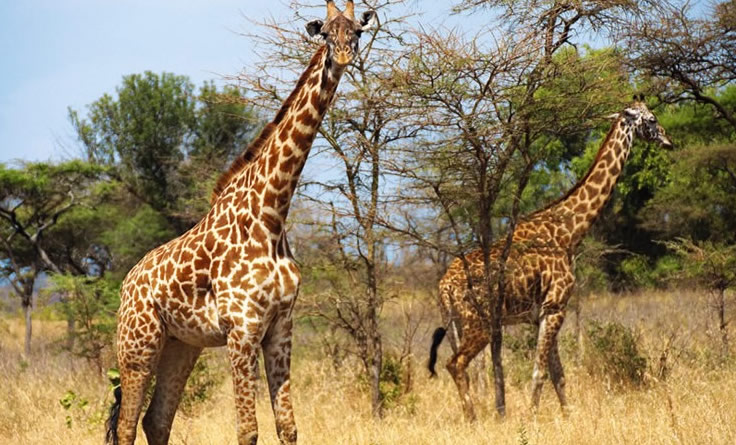 Among the park habitats include Bush Savannah tangled with acacia and branchystagia woodlands with stands of Euphorbia candlebrum, patches of rolling grasslands, riverine, lakes and swamps. To the west of the park, there are hills reaching to elevations of 1600m-1800m above sea level.
Akagera is, above all, big game country! Herds of elephant and buffalo emerge from the woodland to drink at the lakes, while lucky visitors might stumble across a leopard, a spotted hyena or even a stray lion. Giraffe and zebra haunt the savannah, and more than a dozen types of antelope inhabit the park, most commonly the handsome chestnut-coated impala, but also the diminutive oribi and secretive bushbuck, as well as the ungainly tsessebe and the world's largest antelope, the statuesque Cape eland.
The main features and attractions of Akagera National Park include Akagera River and Lakes such as Ihema, Kivumba, Hago, Mihindi and Rwanyakizinga. Akagera National Park has a large mammal population which includes Akagera are elephants, buffalos, lions, Maasai giraffe, gazelles, impala, baboons, oribi, Butchel's zebra, topi, bush baby, leopard and bushbuck. Among aquatic life include crocodiles and hippos. Akagera National park also features a large concentration of bird life with over 525 species identified. Unique species such as Shoe billed stocks and papyrus gonolek can be encountered. Among the Endemics include the jacanas, ibis, sand pipers and herons.
Accommodation in Akagera National Park can be attained in Akagera Game Lodge, Campsites.
Important Information for visitors to akagera park
Akagera can be accessed through two gates of Kabarando and Kiyonza.
Visitors to Akagera Park are not allowed to go beyond point 19 in the direction of Gabiro Guest House.
The park is open between 07:00 Hrs and 17:00 Hrs.
For maximum enjoyment of this park, always use a ranger guide.
ORTPN is not responsible for any injuries sustained from animals within the park.
Clients are advised to respect the rights of animals especially the flight distance.
Tour Activities: The activities in Akagera National Park include:- Camping, Picnics, Nature walks, Bird watching, game viewing and Boat rides
3 Days wildlife Safari to Akagera National Park
Other Safaris in Rwanda