Are you looking for the best spots to go for bird watching in East Africa or Africa at large? Did you know that Bwindi Impenetrable National Park is one of the Important Birding Areas in Uganda besides being mountain gorilla highland? Whereas the largest number of tourists to Bwindi National Park comes mainly for track the unique mountain gorillas, this park also offers yet another tremendous adventure for bird enthusiast in the world.
Located in southwestern Uganda, Bwindi National Park covers an area of about 331 square kilometers and it is also one of UNESCO World Heritage Sites in Africa. Its varied habitats offer refuge to more than 360 bird-life most of which may not easily be seen within East Africa. Birding can be conducted in any area in Bwindi Forest National Park especially within its main trails-via Bamboo zone, Mubwindi swamp in Ruhija and the Buhoma waterfall trail.
The trails are perfect for birding safaris and they are well maintained to give visitors that natural feeling of birding experience of lifetime. About 360 bird species can be sighted within the park, 23 of which are endemic to the Albertine Rift Valley and they take about 90% of all the Albertine Rift endemic birds. The notable ones are the short tailed warbler and blue headed sun bird as well as the seven that are recorded in IUCN Red Data Book.
Where to go for bird watching in Bwindi Forest
Ruhija
The incredible birds to sight while on safari to Ruhijha are the Handsome Francolin, Mountain Illadopsis, White headed wood hoopoe, Montane night jar, Long crested eagle, Bar tailed trogon, Mountain wagtail, Yellow rumped tinker bird, Dusky turtle dove, Yellow bishop, European bee eater, Strip breasted tit, Red faced woodland warbler, Crowned hornbill, Lesser and will cocks' honey guides, Angola swallow, Western Mountain green-bul, Yellow streaked bulbul, Chubb's Cisticola, African hill babbler, Rwenzori and Chin spot batis, Doherty's and Lagden's bush shrikes, Northern puff back, White neck Raven, Northern doubled collared, Streak and Thick billed seed eaters, Black tailed and Western black headed orioles, Stuhlmann's and Sharpe's starlings, purple breasted and Bronze sunbirds, Strange and Brown capped weavers, Grauer's warbler, Chestnut throated and black throated apalis, White starred robin, Grey cuckoo shrike, Ayres's and Cassin's hawk eagle, Red throated alethe, Collard, Black and white casqued hornbills, Mountain masked, Grey throated barbet, Dusky tit, Augur Buzzard, Dusky and Shelley's crimson wing, Great blue and Black billed Turacos, Cinnamon chested bee eater and many more.
Mubwindi swamp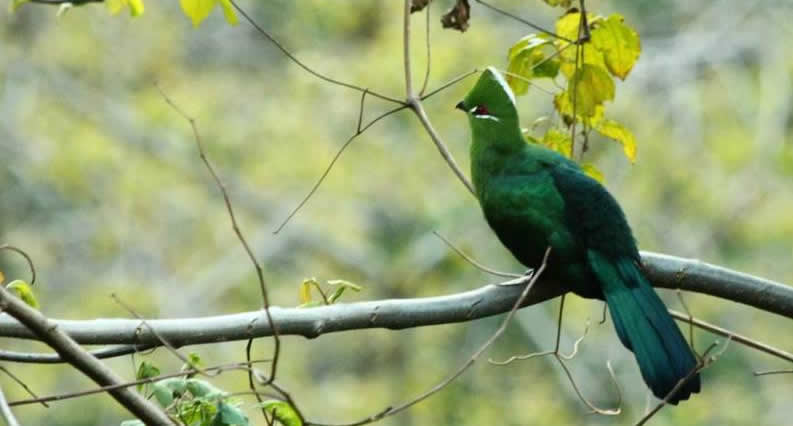 This area comes with sightings from the rare African green broadbill, Collard, Chestnut, Red faced woodland warbler, Grauer's rush warbler, Purple breasted, Mountain masked, Black throated, Grey cuckoo shrike, Mountain greenbul, Mountain Illadopsis, and others
Buhoma region
Buhoma is not only famous for mountain gorilla experiences in Bwindi Impenetrable Forest but also for its amazing bird life which include the Handsome Francolin, Waller's, Pale breasted Illadopsis, Kivu ground thrush, Bar tailed trogon, White tailed blue flycatcher, Red throated alethe, Banded and White chinned Prinia, Red faced woodland warbler, Olive long tailed cuckoo, Elliots, Rufus chested fluftail, Red chested owlet, Cabana's white throated, Neumann's warbler, and Yellow whiskered greenbuls, Honey guide, Pink footed and Northern puff  back, Cameroon somber, Slender billed, Toro olive,  Stulman's and Narrow tailed starlings and many more.
When to go for bird watching in Bwindi
Birding safaris in Bwindi Impenetrable National Park is best during the month of March and September: around June and July Bwindi experiences low amount of rainfall. From March to May there is heavy amount rainfall and at times disorganizes bird watching in the park.
Packing list for bird watching in Bwindi National Park
Do not miss to come with your binoculars, camera and a bottle of water, clothing specifically the long trousers and long sleeved shirts/T-shirts which are environmentally friendly and they should be fit for walking safaris and nature walks, sunglasses and sunhat and many others.
Where to Stay?
Birding without lodging facilities isn't smooth, the lodges to stay while on birding safari in Bwindi include; Buhoma Lodge, Gorilla Forest Camp, Bwindi safari Lodge, Chameleon Hill Lodge, Gift of Nature Lodge, Gorilla Mist Camp, The Haven Lodge, Ruhija Gorilla Lodge, Lake Mutanda Resort, Gorilla safari Lodge, Buhoma Community Rest Camp, Broadbill Camp and Rushaga Gorilla Camp among others.
Getting to Bwindi Birders' Paradise
The park can be accessed by road and air from different parts of Uganda.
By Road
It is 7-8 hour drive from Kampala / Entebbe airport, 4 hour drive from Kigali Airport in Rwanda, 3 hours from Queen Elizabeth National Park and 5-6 hours from Kibale National Park. For those on self drive holiday, a GPS and road maps are highly reccommended because the roads to park are confusing especially in the rural areas.
By Air
One can take a plane from Entebbe Airport or Kajjansi Airstrip at Kisoro or Kihihi Air strips. Its less than 60 minutes flight.
In conclusion, Bwindi National Park is not only for mountain gorilla tracking in Uganda but also for visitors across the world to go for bird watching. There are a number of habitats within the park and each of them offers refuge to a number of incredible birdlife for you to excite your mind while on vacation in Africa. Consider it one of the must to visit important birding areas in Uganda and you will be filled with lifetime experiences.