Uganda Safaris: Wildlife & Gorilla Trekking Tours in Rwanda
African Jungle Adventures is a local based safari company in Rwanda and Uganda, specialized in mountain gorilla safaris, Wildlife tours, birding, rafting, photography and natural history safaris to the finest wildlife destinations of Uganda and Rwanda, deep into the misty jungles of Africa.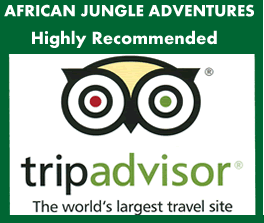 Jungle Safaris Uganda (African Jungle Adventures) is owned and operated by professional wildlife biologists; we take you in comfort to the wilderness, far away from the crowds.​​​​​​ We offer you unbeatable prices and unparalleled value. Book your Uganda safari today with Junglesafarisuganda.com, your discounted safari headquarters.
On a Uganda safari, you can experience so many amazing natural wonders: the world's last remaining population of the mountain gorillas in Bwindi Forest and Mgahinga National Park, beautiful rolling hills, deep valleys and winding roads in south western Uganda, the magnificent Murchison falls, over 1000 bird species and the Big Five animals (Lion, Leopard, Buffalo, Elephant and Rhino). No Uganda safari is complete without spending a day in the Impenetrable forests of Bwindi national park where you track gorillas in the wild.
Uganda Safaris and Gorilla Tours
Rwanda Safaris