Uganda safaris, Gorilla Trekking in Uganda & Rwanda
Jungle Safaris Uganda welcomes to our part of the world! Are you looking for a budget or luxury and memorable safari in Uganda and / or Rwanda with your family or friends? Jungle Safaris Uganda Ltd is here to help you realize your dream safari in Africa. We are a local based tour company since 2001, internationally known for offering excellent services at the most affordable prices on the market!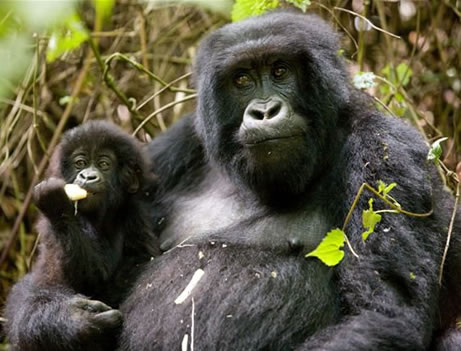 With our new luxurious safari vehicles, excellent selection of accommodation facilities, very intelligent tour consultants and extremely knowledgeable and experienced tour guides / drivers, we ensure a memorable safari experience for life time!
We are specialists in mountain gorilla safaris in Rwanda, Uganda and DR Congo. Our gorilla tours take you deep into the misty jungles of Bwindi Impenetrable forest, Mgahinga forest, Virunga and Volcanoes National Parks. Apart from gorilla trekking, we take you for wild Chimpanzee tracking, wildlife viewing safaris, fantastic boat cruise, excellent birding, cultural excursions, community tours, forest / nature walks and mountain hiking adventures among others.
If you've ever dreamed of exploring the wilderness of East Africa , trek the most rare and endangered African Mountain Gorillas, captivating wild Chimpanzees while walking in pristine dense rainforest, or experiencing the unique and amazing African cultures, then our safaris are for you.
Please contact us for a free quote,, tell us your travel needs so that we assist you tailor make your travel itinerary.
Email: info@junglesafarisuganda.com, Tel: +256-773728141 / +256 701 728141
Uganda Safaris and Gorilla Tours in Rwanda - Africa with Jungle Safaris Uganda
Experience primates tracking on one of our well planned gorilla and chimps trekking tours. On our primates tours visit the tropical rainforests hosting a remarkable number of primates that include Bwindi Forest, Virunga, Mgahinga and Volcanoes National Park; homes to Mountain Gorillas, Nyungwe and Kibale Forest; homes to 13 Primates species and Kyambura gorge plus many other wildlife parks. Gorilla Safari Packages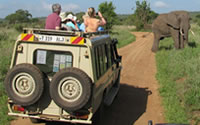 Jungle Safaris offers the best wildlife safaris in Uganda, Rwanda, Kenya and Tanzania. We have supremely knowledgeable tour guides to make your wildife safari a memorable experience. Our game viewing tours lead you to unspoilt wildlife areas of East Africa, in a comfortable 4WD safari Vehicle for excellent game viewing and photographing. Join any of our scheduled safaris or create a custom trip of your own. Safari Packages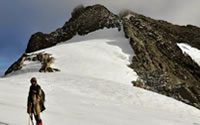 Are you an experienced hiker or just a starter? We offer unrivalled mountain trekking trips to the snow capped Rwenzori Mountains. Discover the mystical mountains of the moon on our mountaineering trips that are available year round. Apart from mountain trips to the Rwenzoris, we offer trekking trips to Mount Elgon, Muhavura and Karamoja. You can join any of our scheduled trips or create your custom trip. See Packages
Special Offers
We run Special Offers for clients interested in gorilla tracking, chimpanzee tracking and wildlife tours in Uganda, DR Congo and Rwanda Tours. Look at our discounted prices for Uganda Safaris and feel free to contact us for any more information about how you can grab our offers!